SUE SoC Design Manager
Manage Your Design with SUE
Everything Needed to Manage Today's SoC Design Flow
Enlarge

The Framework for all design capture, simulation, timaing and data management
Manage circuits, verilog, documentation, and version control
Fast and effective schematic capture tool
Supports Industry Standard File Formats
Drives Most Verilog and SPICE Simulators
---
SUE is a Complete SoC Design Management Environment
SUE combines schematic capture and verification with control of Verilog blocks, timing models, standard cell libraries and documentation. SUE is useful from an architectural level to plan your design, and manage the design process.
Provides an architectural overview of your design.
Fully hierarchical, SUE can drill down to gate-level or transistor level detail of any block.
An example DPC-SUE Design Flow for synthesis, timing and place-and-route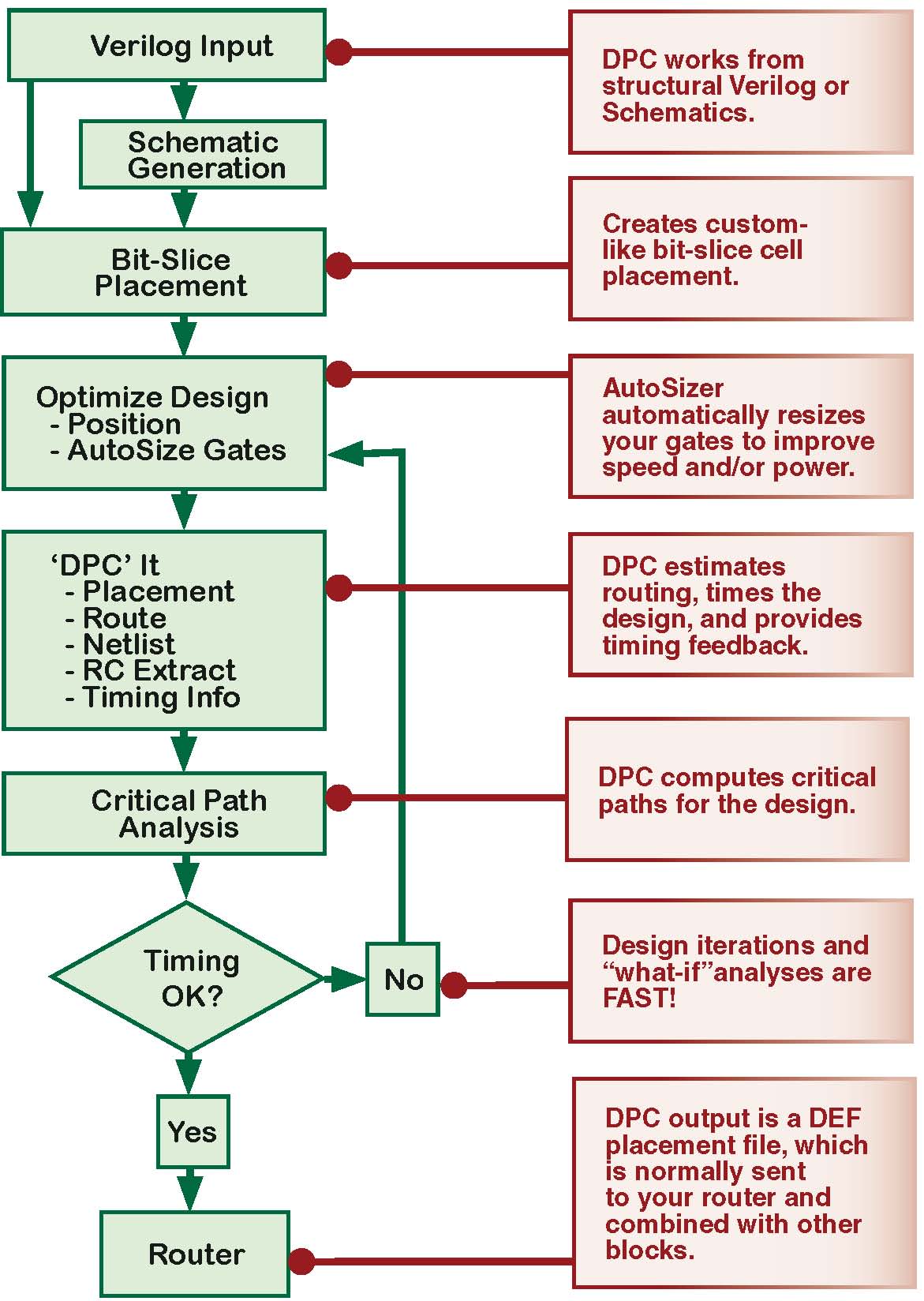 Enlarge
Structural Verilog is imported and automatically arranged as a schematic.
Enter your designs quickly with the simple graphical user interface.
Here, a sample MMI Tools 3D Design Flow, seamlessly integrated with other point tools you already use (interactive click/tap)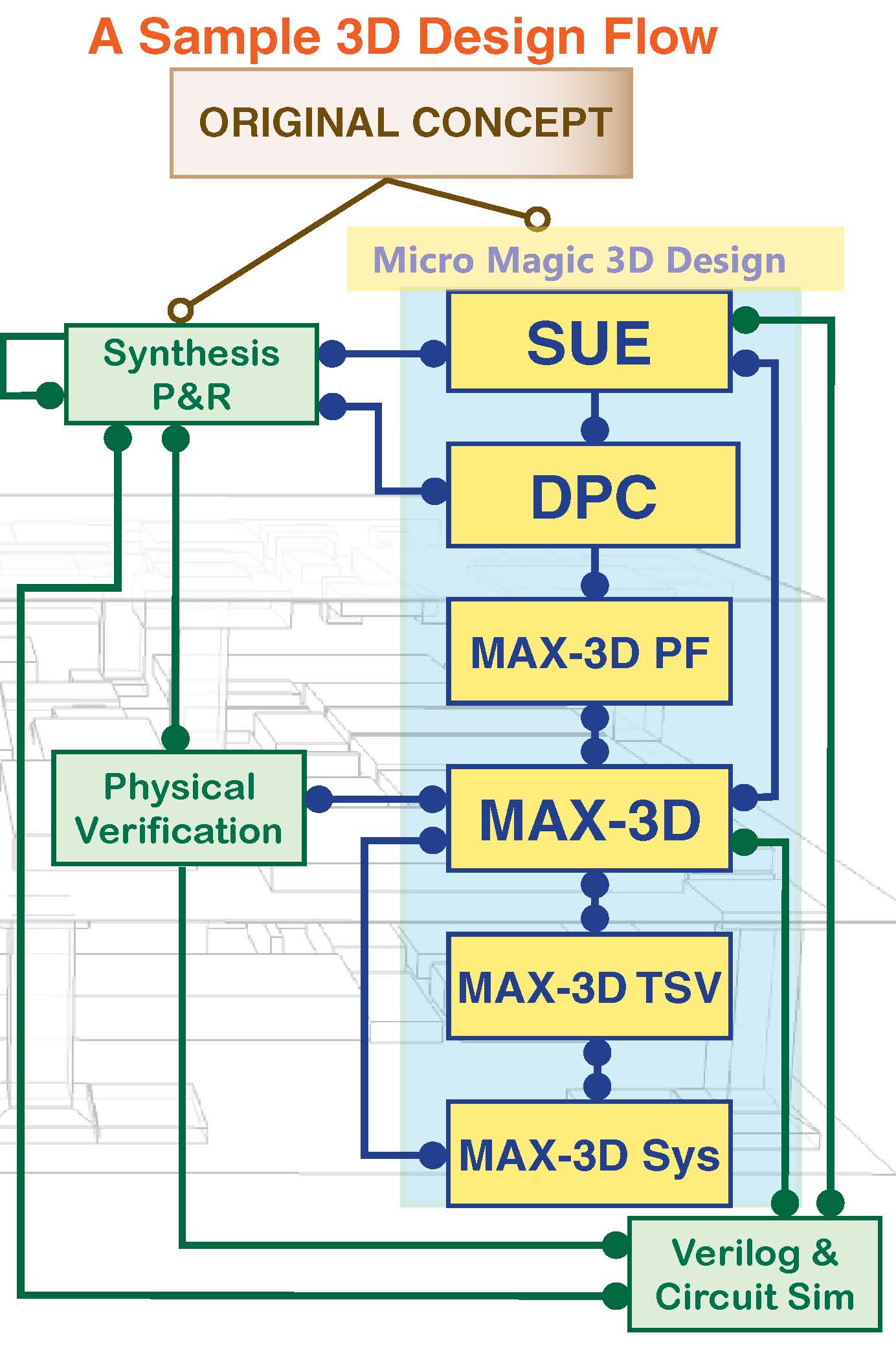 Enlarge (image only)
SUE Features

Draw, view and edit schematics, icons, graphics and text

Verilog models and documentation
Enlarge
Automatically:

Attach Verilog models and documentation to schematics
Generate Verilog from schematic symbols and vice versa
Generate layout when used with MAX-LS Layout Syhstem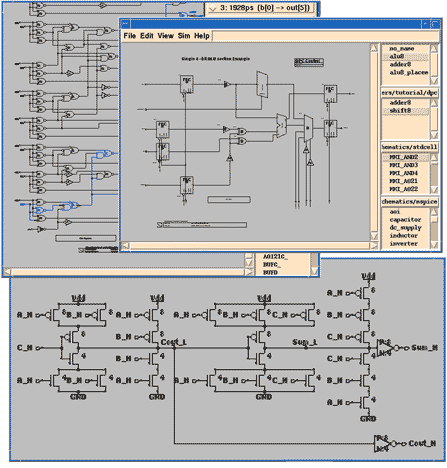 Highlight and crossprobe

Enlarge
Highlight nets and cross-probe between layout and schematic
Maintain multiple views (behavioral, RTL, structural) of all schematics
Interactive cross-probing during simulation on schematic or waveform tool

Enlarge
Includes waveform viewer
Reads/writes OVI-compliant Verilog files
No vendor lock-in from proprietary file formats or encryption. ASCII database for portability
Standard netlist and simulator interfaces
Complete Tcl/Tk programming interface and API
SUE SoC Design Manager, an integral part of MMI's DPC Datapath Tool.
About Micro Magic, Inc. Tools
All MMI tools interface seamlessly with other point tools. You have the ability to augment your existing flow with MMI tools as desired.
All MMI tools run on LINUX, are straightforward to set up and use, and all tools include on-line documentation and tutorials. MMI tools are so easy to use than any engineer can install them in the morning, and begin producing layout in the afternoon.
MMI prides itself on customer service and timely response to queries and comments.
Proven Layout Tools by Proven Layout Designers.